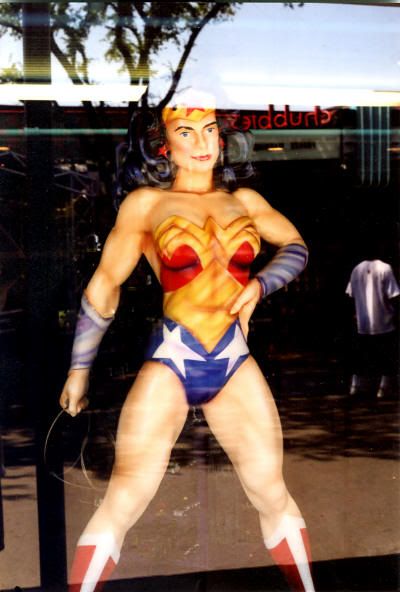 From 1993 until 1996 or so, Wonder Woman was my favorite comic book character. I collected most of her 1987 series in those years, continuing through to the bitter end, and accumulated a good deal of other Amazing Amazon stuff along the way. I obviously still love the character, but my interest was tempered by reading lots of terrible comics about the heroine over the past seventeen years.
When I had my comic shop, the woman I ran it with was aware of my affection for Diana Prince, and routinely gifted me whatever random oddities passed her way. While on a trip to
Six Flags Over Texas
, this life size statue of Wonder Woman was spotted in a shop window, and her husband snapped a picture. I'm not certain of the year, but because it was bagged & boarded with a couple of promotional items from 1998, I'd say that year's a safe bet. I dug this out with the intention to post a while back, and ran an extensive web search in hopes of titling the picture as accurately as possible. While I found a surprising number of other nigh-full scale statues of the Amazon Princess, my photo is the only one I could find of this exact model.
The statue is based on the costume redesign by John Byrne, which Wonder Woman wore from 1995-1997. Although I believe this style was the "official" costume in 1998, Queen Hippolyta wore a variation of the Golden Age dress while substituting for Princess Diana for most of that year. By 1999, a new creative team saw Diana restored to her George Pérez design from 1987.
I never had any serious issues with Byrne's mild reworking, and it translated nicely to statue form. The extended gauntlets didn't make the trip very faithfully though, with that odd swirling airbrushing. The pose is a bit stiff, and the hands poorly scuplted, but I otherwise like this statue very much. I appreciate her gentle eyes and soft smile, which are counterbalanced by probably the most extreme musculature I've ever seen on an official Wonder Woman likeness.
Time Warner Entertainment managed Six Flags from 1991-1998, and the relationship saw lots of promotion of Looney Tunes and DC properties at the park. I doubt this statue survived the change in ownership, and wonder what's become of her.