Click To Enlarge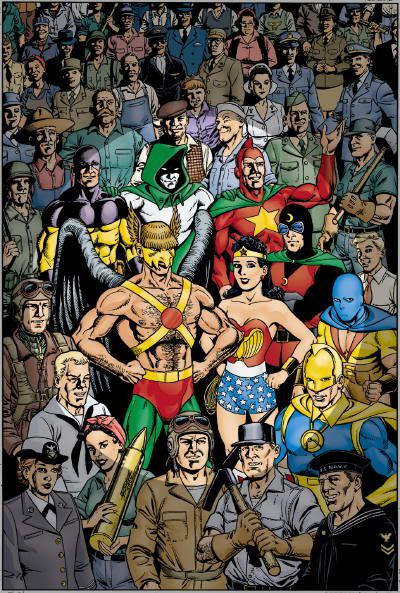 This is a fledgling blog, so we're only on our first of what will be a great many George Pérez-related posts, not counting the cover images by Pérez I've already used.
Frank Harry's 1943 cover to
All-Star Comics
#16 has been referenced many times, most memorably by Neal Adams in the '70s, and most recently by Pérez as part of DC's 75th Anniversary variant cover series. I figure Marvel Comics did their level best to preemptively steal DC's thunder with their bogus 70th anniversary painted variants. Instead, they gave DC all the ammunition they needed. Marvel's single figures by middle rung painters against a white background can't help but look cheap and rushed against DC's fully realized recreations by the best artists in the industry. I'd only consider
Walt Simonson's Detective Comics #69 homage
and
Eduardo Risso Superman #233 lift
to be interesting failures, but the above and
Mike Mignola's take on Detective Comics #168
are outstanding, while
Lee Bermejo's stunning interpretation of Legion of Super-Heroes #294
makes my naughty bits tingle. I complain a lot about modern DC editorial, but when they get something this right, how can you not applaud?